Pedestal 04-20-17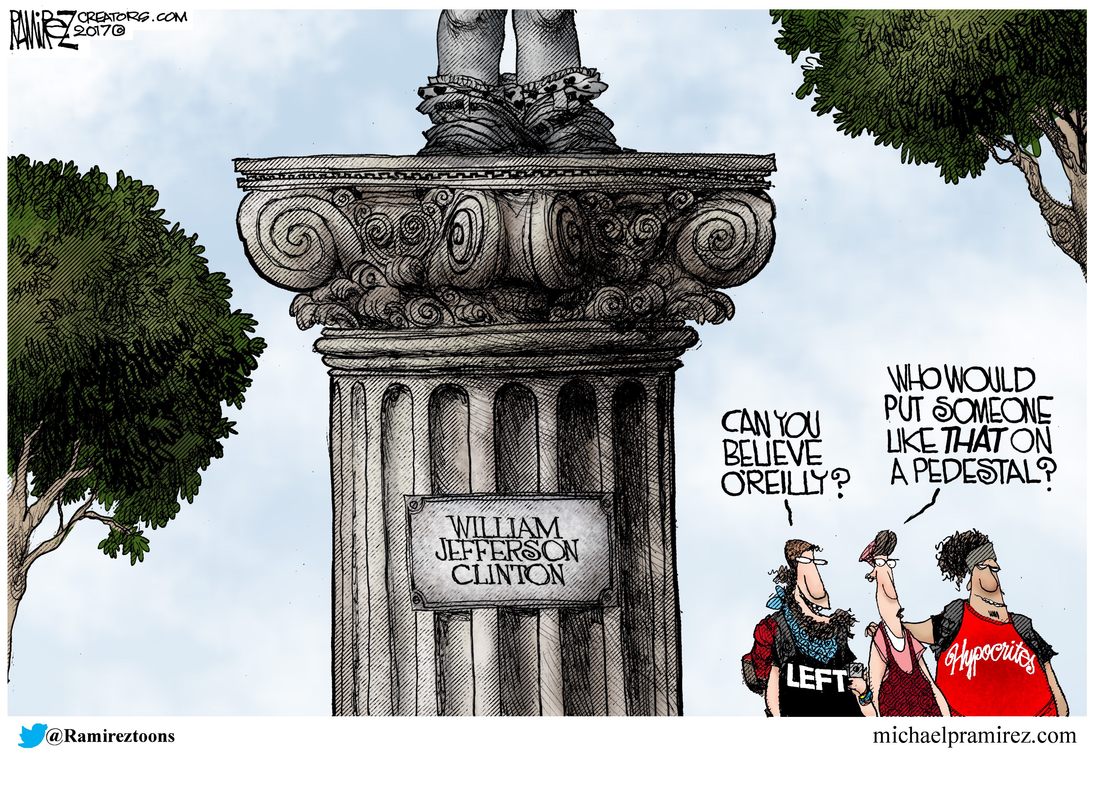 IN RE O'REILLY, PART FOUR
APRIL 21, 2017
BY
JOHN HINDERAKER
POWERLINE
​
Paul has written about the downfall of Bill O'Reilly in a series of three posts, the most alarming of which was
Part Three
. I want to add a cartoon coda.
I don't usually come down hard on hypocrisy. It strikes me as a relatively mild failing. But when it comes to liberals and Bill O'Reilly (or Donald Trump), the contradiction is so stunning that one can hardly help remarking on it.
Michael Ramirez
makes the point well.
Bill Clinton was credibly accused of rape by Juanita Broaddrick. Kathleen Willey says that he grabbed her p**** in the oval office. He was disbarred from the practice of law and was taxed costs of over $90,000 for committing perjury in Paula Jones's sexual harassment lawsuit against him, which he later settled for $850,000. And no one has forgotten how he treated intern Monica Lewinsky.
All the while Clinton remained the leader of, and most popular figure in, the Democratic Party. It is remarkable that any Democrat has the nerve to try to make an issue out of sexual conduct with regard to any Republican or conservative.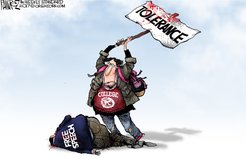 The Stench of Liberal Hypocrisy
By Miles Goslett| 8:00 am, April 20, 2017
HEAT STREET
The departure of Fox News host Bill O'Reilly over allegations of inappropriate conduct has, predictably, caused a certain amount of exultation from liberal and left-leaning stars and commentators.
Cher tweeted that "O'Reilly and Donald Trump have sexually harassed women 4 years" without providing any concrete examples to back up this claim. Rosie O'Donnell followed suit, calling Trump and O'Reilly "sexual predators of a feather". (She also failed to expand on this extreme accusation). And Stephen King said Trump and O'Reilly are both "members of the odious boys' club where members feel they can abuse and humiliate women at will". Again, he did not produce a shred of evidence.
The question is, where were these sanctimonious voices when members of their own club were accused of what some might judge to be far more inappropriate behavior than the king of cable was? And why have they previously been content to see others who have been accused of alleged crimes and misdemeanors potentially elevated to positions of great authority, or watched them receive the most prestigious of awards?
​
Let's start with Bill Clinton.
read more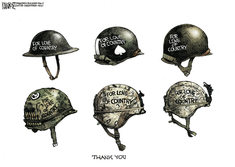 Bill O'Reilly statement blasts far-left 'brutal campaign of character assassination'
Carlos Garcia
Apr 18, 2017 10:06 pm
THE BLAZE
An attorney for Fox News host Bill O'Reilly released a statement Tuesday blaming "far-left" organizations for a smear campaign against him, saying that he'll be revealing evidence of his claim.
"Bill O'Reilly has been subjected to a brutal campaign of character assassination that is unprecedented in post-McCarthyist America,"
the statement
from attorney Marc Kasowitz read.
The statement appeared to be in reference to the accusations of sexual harassment against O'Reilly, who is on vacation this week from his show. In recent weeks, he's been assailed by protests and a social media campaign
that has forced his show to hemorrhage dozens of advertisers.
"This law firm has uncovered evidence that the smear campaign is being orchestrated by far-left organizations bent on destroying O'Reilly for political and financial reasons," the statement concluded. "That evidence will be put forth shortly and it is irrefutable."
The statement offered no evidence of the claim it made.
CNN reported Tuesday that their sources claimed O'Reilly and Fox News were already in talks about his exit from the network.
​
The campaign to get rid of O'Reilly from the air began when
the New York Times revealed a report
saying he and Fox News had settled lawsuits to the tune of $13 million. O'Reilly responded by saying that he had settled in order to protect his children from a rancorous court battle had he chosen to fight the allegations.
read more