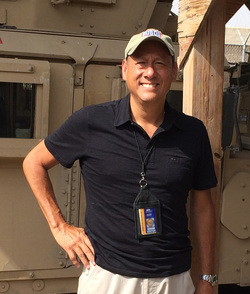 Michael Ramirez is a two-time winner of the prestigious
Pulitzer Prize in 1994 and 2008
and a three-time Sigma delta chi, Society of Professional Journalism Award winner. He is a former Senior Editor and the Editorial Cartoonist for
Investor's Business Daily.
The former editorial cartoonist for the
Los Angeles Times
, Ramirez's cartoons have been featured on CNN, Fox News, Fox Business, The Bill O'Reilly Show, and the Rush Limbaugh Show. His work can be seen in such publications as the New York Times, USA Today, theWashington Post, the New York Post, Time Magazine, National Review and US News and World Report. Look for his weekly contributions at the
Daily Signal
and the
Weekly Standard
. Ramirez is also in high demand as a highly acclaimed international speaker. You can email Ramirez and follow him on Facebook and Twitter by clicking the social icons at the top of the page.
Click on the Youtube video to hear Michael's speech on the life of a political cartoonist. Video shot during the 2014 post election National Review Cruise:
A Grateful Note to Fans From the Editor
Thank you very much for all your email comments. As you can imagine, we receive many letters with great cartoon ideas as well, but I'm receiving so many, I no longer have the ability to properly respond to individual writers. Please know that I read every message, and am delighted by your comments and ideas. I laugh every day, and am deeply grateful to hear from everyone.

Unfortunately, I cannot share with Mr. Ramirez other people's ideas. As Michael says,
"Like any editorial opinion, editorial cartoons require thorough research and substantiation before I can even begin the concept phase and therefore, my ideas all spring from the deepest recesses of my own dark and twisted mind, and must be my own personal views."
However, he thanks you for thinking of him, for taking the time to write and for sharing your ideas. He deeply appreciates your thoughtfulness and your support.