Free Speech 07-04-17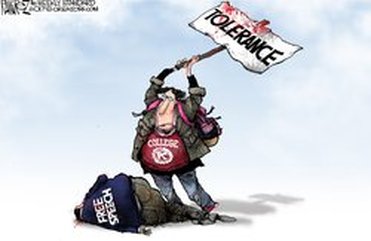 Our Greatest Freedom
By: Grace Arthur July 6, 2017 for MichaelPRamirez.com
​
Ask any teenager what they think their greatest freedom is, and chances are they will say it's their freedom of speech. Our ability to speak our opinion via Twitter, Facebook, or any other social media outlet has become not just a freedom but a tool. For me, freedom of speech is very important because growing up in California as a young Republican has not been easy.
High school consisted of a lot of mean stares and rude comments that bashed my political beliefs and my only defense was my freedom to speak and defend those beliefs. This is why I get mad when I hear that CNN is blackmailing a 16 year-old because he exercised his freedom of speech by posting a video.
Since when did CNN get to choose who is allowed to speak their opinion and who should be punished for it? The only reason they are blackmailing him is because the video hurts their appearance. Well, if I could say something to CNN it would be what my mom always told me growing up, sometimes life's not fair but you're just going to have to deal with it.
I applaud that 16 year-old for making the video because, let's face it, kids do not have a lot of power when it comes to politics. Which is why I take pride in my freedom of speech. It gives me the feeling that what I think does matter because I have the ability to share it. What makes it even better now? I can share it in so many ways with social media. Of course, this can also cause problems (#twitterfights #facebookfights) but I think that is the beauty of free speech because it wouldn't be free if everyone had to think the same way.
I hope in the coming years, as I head to college, I can continue to exercise my freedom of speech without apology or fear: it is my defense, my pride, and above all my right.
Signed, limited prints of
Tolerance and Free Speech available HERE