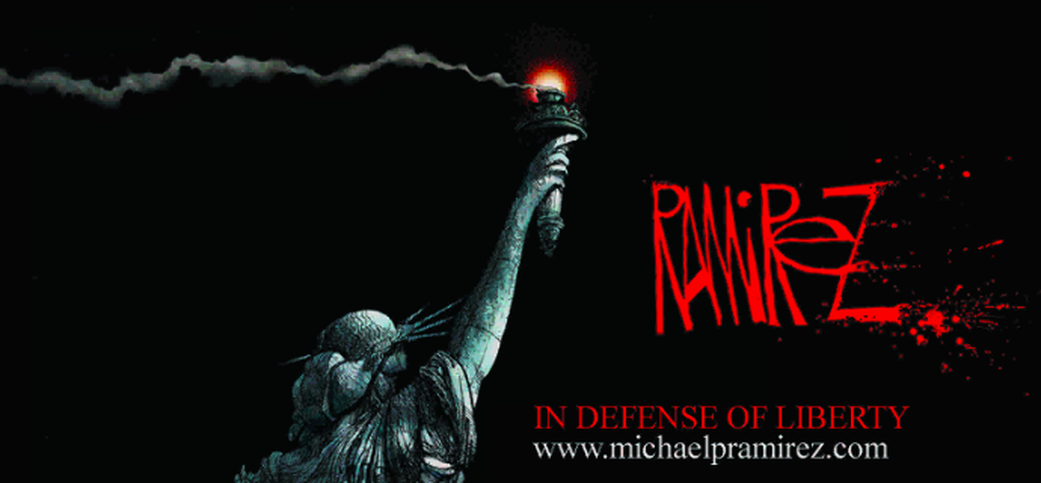 At Last! Limited prints of selected cartoons are now available. Individually signed and numbered by Michael, the first, "Capone's Vault", "For Love of Country" or "Tolerance and Freedom" can be yours. find out more
HERE
or click on Store link above.
March Cartoons
February Cartoons
A Grateful Note to Fans From the Editor
Thank you very much for all your email comments. As you can imagine, we receive many letters with great cartoon ideas as well, but I'm receiving so many, I no longer have the ability to properly respond to individual writers. Please know that I read every message, and am delighted by your comments and ideas. I laugh every day, and am deeply grateful to hear from everyone.

Unfortunately, I cannot share with Mr. Ramirez other people's ideas. As Michael says,
"Like any editorial opinion, editorial cartoons require thorough research and substantiation before I can even begin the concept phase and therefore, my ideas all spring from the deepest recesses of my own dark and twisted mind, and must be my own personal views."
However, he thanks you for thinking of him, for taking the time to write and for sharing your ideas. He deeply appreciates your thoughtfulness and your support.

Jan 2017
Michael speaks with Whiskey Politics in new video -click HERE to view
Books for purchase